I think this is an important concept to have in mind, especially when you are looking to buy items in bulk or to form a stockpile. I've posted before some of my ideas about stockpiling common household goods and groceries, but I think it's an important thing to consider.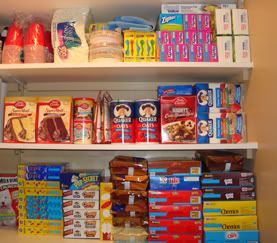 Very often, warehouse stores can have better prices on items that you purchase in bulk, but you still have to do the math. Once you get your price point in mind, you'll be able to quickly figure out if the item is worth buying.
My general price point on snacks is 25 cents per serving, though I will go up to 50 cents per serving if the item is organic or a favorite healthy snack. I have specific foods that I know the kids will eat, and I also like to buy up items for when we have to provide a snack for the class. 24 items at a time can really eat into a tight grocery budget. Often, large bags can be a much better cost, and I usually prefer less packaging. With the requirement of individually packaged snacks for school, they are nice to have on hand.
Here's an example, and this is one I'm buying today:
Goldfish, individual serving packages. There are 60 per package, and Amazon has them for $17.76 today. Though it doesn't quite hit my 25 cent threshold, it is a pretty great deal and I will have 2-4 days' of school snack and a few for the house.
These beat the quarter ratio--$15.33 for a total of 72 granola bars make them 21 cents each. The Quaker chewy bars are 29 cents each, but another favorite.
Now, this is one of our favorite snacks to have for lunch boxes or snacks on the go. It will never get to 25 cents a serving, but it gets special circumstance because it has no added sugar and is made with nothing but fruit. It's also a HUGE favorite. I buy them up whenever I can get them for under $24 for 48 packages. Right now, strawberry flavor only are $21.73 with subscribe and save.
34 cents each for organic fruit bars. We like these as well, and $10.19 for 30 is great.
What's your price point? I don't have a warehouse store membership because we didn't think there was enough savings to justify the membership fee. Adding to the confusion, these items fit my rule for items delivered to my home--Subscribe and Save always includes free shipping. My Amazon shopping money all comes from Swagbucks, so I am a little freer with it.
I also really think that everyone has to have their own price list. In my case, my grocery shopping choices are fairly limited. My stores will not double coupons. In the area where I live, we're not going to buy $600 worth of groceries for a handful of pocket change, but we do the best we can.